TV Tower
TV Tower is a high-sulphidation epithermal and porphyry gold-copper property located in the Biga District of northwestern Türkiye, close to established infrastructure. Discovered by Teck Resources and Liberty Gold (formerly Fronteer Gold), the project hosts numerous gold and copper discoveries to date and abundant untested targets. A resource estimate on the KCD high-sulphidation Au-Ag-Cu deposit in the northeast corner of the property was released in 2014. Resource estimates on the Columbaz Au-Cu porphyry, located 2 km to the south of KCD, and four deposits in the southern part of the property (Kayali, Yumrudag, Hilltop Porphyry and Valley Porphyry), spanning Au-Cu porphyry, high sulphidation epithermal gold oxide and supergene copper mineralization, were released in April, 2021.
Favourable location, mining-friendly jurisdiction
The road-accessible project resides on the Biga Peninsula of northwest Türkiye, an area featuring numerous open pit coal, quartz and clay mines, ceramics factories and a major power plant. The port city of Canakkale lies 37 km to the northwest along a paved highway. The project has an extensive road network and drill targets all lie on land administered by Türkiye's Ministry of Forestry. There are no settlements or agriculture on the property. TV Tower is located adjacent to Alamos Gold's Kirazlı¹ gold project and 20 km to the northwest of the Halilağa gold-copper porphyry development project.
Teck partnership
TV Tower is a joint venture between Liberty Gold (68.7%) and Teck Madencilik Sanayi Ticaret A.Ş. (31.3%), a Turkish subsidiary of Teck Resources Limited.
Liberty Gold is project operator at TV Tower.
Favourable geology
TV Tower is underlain by hydrothermally-altered intermediate volcanic rocks and intrusive bodies. The highest elevations of the property are host to residual quartz ledges and ribs with oxidized high sulphidation epithermal ("HSE") gold mineralization and/or unoxidized gold-silver-copper mineralization. Gold-copper porphyry systems lie immediately under or adjacent to the oxidized gold zones, often with a zone of supergene copper mineralization at the interface. Low sulphidation epithermal ("LSE") gold-silver veins often flank the HSE and porphyry systems. The volcanic rocks overlie a basement of metamorphic rocks that are exposed in the deepest valleys and in the western portion of the project.
Six discoveries, numerous untested targets
First-pass drilling in 2010 resulted in new HSE discoveries at the Küçükdağ ("KCD") and Kayalı targets.
In 2012, Liberty Gold completed an aggressive exploration program that consisted of 14,440 metres of diamond core drilling at the KCD target, property-wide airborne magnetic/EM geophysical surveys and surface mapping and geochemical sampling. Drilling at the KCD target returned high-grade intercepts (227 g/t gold over 12 metres in KCD-50) as well as long intervals of gold mineralization (5.94 g/t gold over 137.1 metres in KCD-39) in a zone that also contains significant silver and copper. A near-surface zone of silver-only mineralization that partially overlies the high-grade gold-silver-copper zone has also been identified.
In 2013, Liberty undertook core and RC drilling, geologic modeling and surface work. Seventy-two drill holes comprising 16,735 metres were completed at KCD. Drill highlights included:
KCD-142: 15.3 g/t gold over 45.2 metres, including 386 g/t gold over 1.5 metres
KCD-134: 327 g/t silver over 14.5 metres, including 547 g/t silver over 8.5 metres
KCD-108: 93.0 g/t silver over 122.7 metres
KCD-102: 25.7 g/t gold, 47.2 g/t silver and 2.12% copper over 16.5 metres, including 142 g/t gold, 141 g/t silver and 3.39% copper over 2.0 metres
A new zone of near-surface, oxidized gold mineralization up to 10 metres thick was discovered through four drill sites spaced approximately 130 metres apart, overlying the silver zone and north of the high-grade sulphide gold zone.
The Kayalı target is a high-sulphidation, shallow oxide gold target located approximately eight km south of the KCD target. Discovery hole KYD-01 returned 0.87 g/t gold over 114.5 metres from a depth of 4.5 metres, including 2.85 g/t Au over 15.4 metres. The 2013 drill program comprised approximately 3,500 drilled metres. Highlights include:
KYD-39: 1.29% copper (Cu) over 34.1 metres including 1.90% Cu over 20.8 metres
KYD-46: 15.9 g/t gold (Au) over 3 metres, within an interval grading 1.35 g/t Au over 45 metres
KYD-51: 1.96 g/t Au over 33.1 metres, including 3.42 g/t Au over 17.4 metres
The 20 km2 Karaayı license, acquired in September, 2013, is contiguous with the Kayalı oxide gold target. The Karaayı tenure contains some of the strongest and most extensive gold-in-soil and copper-in-soil anomalies in the district. Drilling at Karaayı by previous operators intersected near-surface, oxidized, high-sulphidation style gold and gold-copper porphyry mineralization, which is on strike to the west of the known oxidized gold mineralized zone at Kayalı.
Surface sampling, IP and magnetic geophysical surveys and prospecting, followed up by drilling in 2014, outlined three deposits at Karaayi. Yumrudag is an oxidized HSE gold oxide system, which partially overlies the Hilltop gold-copper porphyry system. The Valley deposit, located a few km south of Yumrudag, is a relatively high-grade gold-copper porphyry system.
The Columbaz deposit is located approximately two kilometres south of the KCD target. Drilling of a LSE target in this area defined by outcropping quartz veins and float samples returning up to 92 g/t gold and up to 396 g/t silver revealed a shallow gold-copper porphyry system, which was tested by drilling in 2014 and 2020. The deposit extends to a depth of over 700 m and is open to the north and south.
Resource estimates
The four South TV Tower deposits (Kayali, Yumrudag, Valley and Hilltop) contain multiple ore types and corresponding resource subsets by ore type and cut-off grade, with the breakdown illustrated in Table 2. These resource subsets comprise the South TVT Oxide Gold; South TVT Supergene Copper; and South TVT Au-Cu Porphyry subsets. The four deposits all lie within a 4 km-long trend, such that separate milling and heap leaching operations, managed as a single operation, would reasonably be expected to accommodate mineralized material from all of the deposits.
The two North TV Tower deposits contain three ore types and corresponding resource subsets (North TVT Au-Cu Porphyry, North TVT Oxidized Porphyry and North TVT KCD HSE Au-Ag-Cu resource subsets). The two deposits are located within 1.5 km of each other such that it is reasonable to expect that they would be developed using common infrastructure. However, without further analysis, it is uncertain at this time whether the North TV Tower and South TV Tower deposits would be developed using common infrastructure.
TABLE 1: TV Tower Resource Estimate Summary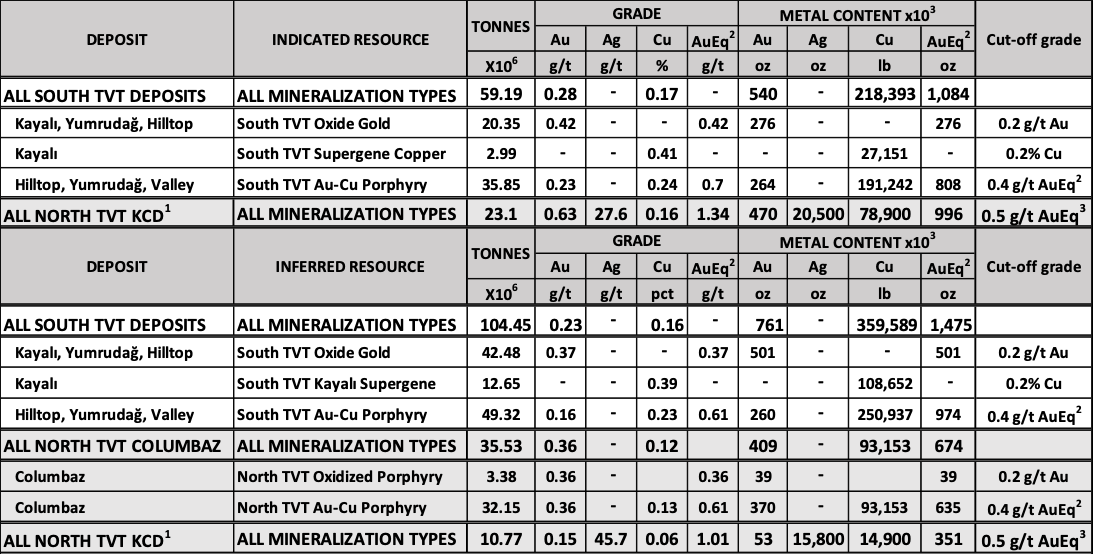 1Current mineral resource estimate in 2014; details provided in the 2014 Technical Report filed under Liberty Gold's profile on www.sedar.com
2AuEq for 2021 resource calculated using the following equation: Au g/t + Cu % / 0.6686 x 1.338. The gold equivalent formula was based on the following parameters: Cu price $3.40/lb;,Au $1600/oz, Cu recovery: 87%, Au recovery:65%.
3AuEq calculated in 2014 using a ratio of Au:Ag of $1200:$20 at 75% recovery and Cu at $3.00/lb at 70% recovery.
For more details regarding the resource estimations, see the 2014 and 2021 Technical Reports filed under Liberty Gold's profile on www.sedar.com.
Our focus
The six deposits are all open to expansion, and several very compelling drill targets await drill testing. Discussions are ongoing to unlock the value and potential of the TV Tower through further drilling or an asset sale.
For further details on the South TV Tower and Columbaz deposits, see the NI 43-101 technical report entitled "Updated Technical Report and Resource Estimate, TV Tower Property, Çanakkale, Western Türkiye", effective February 9, 2021 and dated May 18, 2021, co-authored by Mehmet Ali Akbaba, Mustafa Atalay and Fatih Uysal of DAMA Muhendislik A.S.; Gary Simmons, BSc, Metallurgical Engineering, of GL Simmons Consulting, LLC. and James N. Gray, P. Geo. of Advantage Geoservices Ltd, filed under Liberty Gold's Issuer Profile on SEDAR at http://www.sedar.com..
For further details on the KCD resource estimate, see the NI 43-101 technical report entitled "Independent Technical Report for the TV Tower Exploration Property, Çanakkale, Western Türkiye", effective January 21, 2014 and dated February 28, 2014, co-authored by Casey M. Hetman, P.Geo. with SRK Consulting (Canada) Inc.; James N. Gray, P. Geo. of Advantage Geoservices Ltd.; and Gary Simmons, BSc, Metallurgical Engineering, of GL Simmons Consulting, LLC., filed under Liberty Gold's Issuer Profile on SEDAR at http://www.sedar.com.
Moira Smith, Ph.D., P.Geo., VP Exploration and Geoscience, Liberty Gold, is the Company's designated Qualified Person within the meaning of NI 43-101 and has reviewed and validated that the information contained herein is accurate.
Cautionary Note Regarding TV Tower:
As to TV Tower through to the effective date of the TV Tower Agreement dated June 20, 2012, all drill samples and analytical data were collected under the supervision of Teck Madencilik Sanayi Ticaret A.S. ("TMST"), a Turkish subsidiary of Teck Resources Limited ("Teck"), using industry standard QA-QC protocols. Dr. Smith is responsible for compiling the technical information contained in this website but she has not verified all the assay data generated by TMST as previous operator at TV Tower, and has not necessarily had access to individual assay certificates. However, the grades and widths reported on this website agree with the Company's past results on the projects and TMST has given her no reason to doubt their authenticity. Dr. Smith also visits TV Tower regularly during the active drilling season and during those visits, was given complete freedom to review drill core and technical data on site, and to discuss the ongoing program and results with TMST staff. She is satisfied that TMST is meeting industry standards for all levels of exploration work being carried out on the property.
For further details on the KCD resource estimate at the TV Tower Project, please see the NI 43-101 technical report entitled "Updated Technical Report for the TV Tower Exploration Property, Canakkale, Western Türkiye", effective January 21, 2014 and dated February 27, 2014, co-authored by Casey M. Hetman, P.Geo. with SRK Consulting (Canada) Inc.; James N. Gray, P. Geo. of Advantage Geoservices Ltd.; and Gary Simmons, BSc, Metallurgical Engineering, of GL Simmons Consulting LLC., filed under Liberty Gold's Issuer Profile on SEDAR at http://www.sedar.com